Office furniture trends are often the biggest takeaway from NeoCon—the largest commercial interior design trade show. But what are trends without the products that inspire them? One of the industry's biggest inspirations is Teknion, and at this year's NeoCon, their products showcased how workplaces can be designed to communicate and influence company culture and leverage current office furniture trends without leaning on them too heavily.
Explore the Latest Office Furniture Trends with 9 Teknion Product Highlights from NeoCon 2019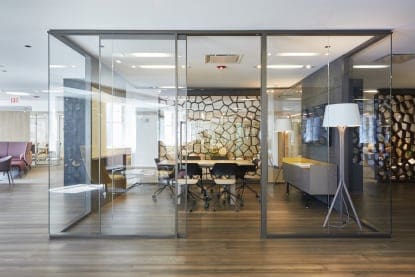 Tek Vue
In a world where taking up less real estate is more, Tek Vue is a clear winner. No really, it is the Best of NeoCon Gold Winner. Teknion's glass office-front wall system is designed with clean lines, thin wall and door profiles and utilizes a universal platform which re-envisions how a system can be specified, planned and installed. Other features include a high level of acoustic performance and single-center glazing.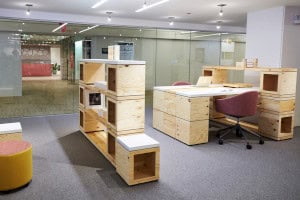 Bene Box
This is not your grandfather's office furniture; heck your father would probably give it the side eye. But shock aside, this raw and ready for anything Teknion collection won the Best of NeoCon Innova-tion Award. We love the look, and the invitation it offers for you to construct and re-construct the pieces until you've created the space you need, or security kicks you out!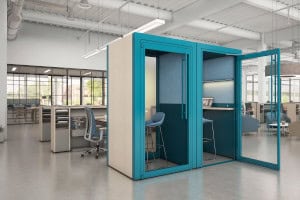 Tek Booth
Think old-school phone booth on steroids. Tek Booth creates a private, single-person space where confidential calls can be made or heads-down work performed. It's a sleek and unassuming piece with the super power to keep personal information enclosed and reduce noise while at the same time making you feel comfortable in a small-footprint space.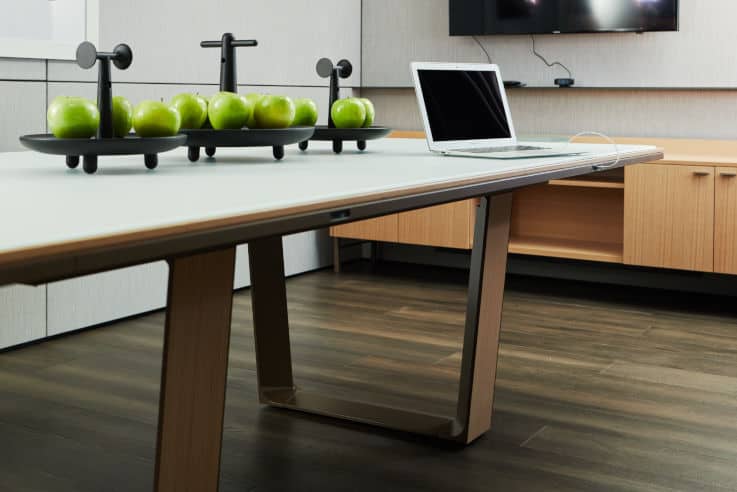 C+D Conference Table
Who would have thought that one table would have so much to offer? Designed by Mario Ruiz, the C+D (Craft+Design) conference table features multiple leg, power and edge profile selections. It's designed and engineered to accommodate a variety of sizes and top materials, and let's face it; we could all use this warm yet functional aesthetic in our (work) lives.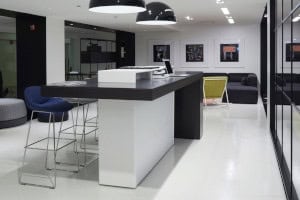 Reception
Welcome to the future of reception desks! As reception needs change, and public and private spaces are blending in today's office, Teknion has taken an innovative approach. This collection offers five distinct starting point options for desks, bar tops and consoles, including the Classic Desk, Desk with Transaction, Full Enclosed Desk and Communal Bar that invites a shared experience.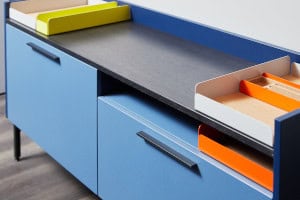 Emote
As its name suggests, this collection brings an expressive quality to your workspace through an ex-tensive palette of new paint colors that even those finicky creatives will approve of. Comprised of distinct furniture elements that are lighter in scale, Teknion's Emote not only gives your space the freedom to function in multiple ways, it's also well-suited to smaller spaces. Bonus, it's designed by Mario Ruiz.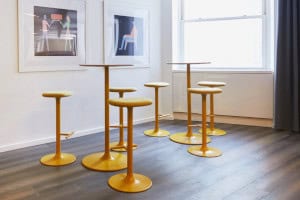 Sprout
Teknion's Sprout line is ideal for your workplace, phone booth, cafeteria, retail or educational set-ting; wherever you'd like to plant it! This collection of stools and tables is inspired by nature in its varying stages of growth and offers task, counter and bar heights. Plus, it features Luum Textiles up-holstered swivel seats, sturdy metal bases and supports that can be painted any Teknion paint color.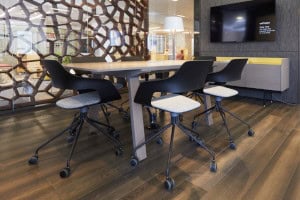 Wilkhahn Occo Seating
If you like to make yourself at home wherever you are (and who doesn't?), it's easy with this col-lection of comfy, multi-purpose chairs designed by jehs+laub, licensed to Teknion. These chairs are perfect for cafes, informal meeting spots, upscale conference rooms and everything in between.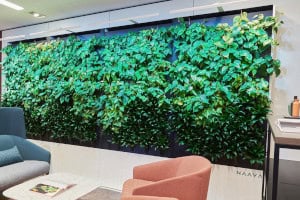 Naava Wall
Trust us; you'll breathe a little easier over this one. Most of us spend our days indoors and we all know it's not great for our health or wellbeing. But Teknion has seen the light and partnered with Naava to bring you this unique piece of smart furniture that combines technology, nature and Scandinavian design. Not only does it improve air quality, it brings the benefits of nature indoors.
Want to see how these products can inspire the design of your space?
Book a tour of our showroom for a complimentary design consult.