Do you ever think about what your office space says about your company? It communicates more than you know. The way you design and structure your workplace—and tailor it to the needs of your employees—can play a pivotal role in attracting and retaining talent. At least 80 percent of office workers say the design of their workspace is important, according to the Leesman Index, which measures workplace experience globally.
Functionality matters when designing (or redesigning) your office space, but so does aesthetics. Employees, especially those who have spent the past year and a half working from home, want a space that not only makes them feel productive and inspired but also creates a sense of safety and comfort at every level.
Though these commercial interior design trends were emerging even before COVID-19 hit, the pandemic has accelerated their integration into the workplace. Here are four of the latest design trends transforming commercial office spaces and how to adapt them to your space: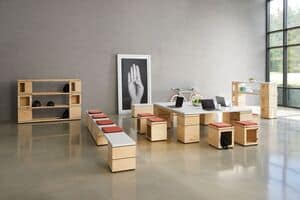 Health and safety
There is no doubt the pandemic has heightened the need for safe, protected workspaces. Many companies are going beyond just setting up plexiglass barriers and hand-sanitizing stations or limiting conference or meeting room capacities. Keeping spaces flexible and decluttered helps encourage social distancing. Replacing fixed furniture in the center of rooms with moveable, lightweight pieces that can be reconfigured allows you to focus on the moment's needs. Creating nooks within large communal spaces that offer privacy and seclusion for small team meetings promotes safety and wellness. Opting for hard surfaces like engineered hardwood or luxury vinyl tile flooring and other design elements that can be easily cleaned, sanitized, and maintained promotes workspace cleanliness.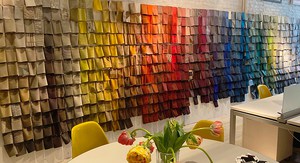 Color psychology
Whether it happens consciously or not, colors can evoke emotions that affect mood and productivity. Red can energize and create a sense of power and confidence, and purple can inspire creativity. While orange encourages communication and collaboration and yellow promotes positivity and innovation. Cooler hues like blue and green are relaxing and rejuvenating. Spruce up your office palette with pops of these colors in strategic places. Use colored furnishings, pillows, walls, flooring, or artwork to separate different spaces or improve navigation in your workspace. Mix warmer or bolder colors with contrasting whites, grays, and neutrals to create a cheerful, welcoming vibe.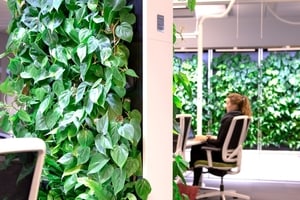 Sustainability
A growing number of offices are greening up their workplace with biophilic features, such as plants, living walls, water features, skylights, etc. Research shows that bringing in these natural elements not only purifies the air and reduces toxins, but it can also boost productivity and creativity. Offices are also embracing sustainability by using LED lighting, reupholstering and upcycling furniture, and mixing new design elements with original or retro features.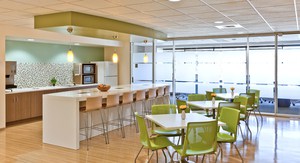 Branding and storytelling
The design of your workplace should reflect what makes you distinctive as a company as well as the story you want to tell. You can achieve this through the colors, materials, furnishings, and even the layout you use. Take each office segment and think about the atmosphere and experience you want to create for workers, customers, and clients. Areas should be functional with a clear, specific objective of use but also show personality. Make sure each piece or design feature aligns with your brand and creates the feel and impact you want.
Need help implementing these trends into your current office decor or next redesign? Contact us for guidance on transforming your workspace into a healthier, happier, and more productive environment.
Come see these ideas in person!
Book a tour of our showroom for a complimentary design consult.