10 Collaborative Workspace Design Ideas
Collaboration is king in today's office environment. But it's not just a trend for trend's sake. After all, there is something to be said when some of the most innovative companies in the world—Pixar, Google, Boeing, Cisco, Facebook to name a few—go all in on a collaborative design.
The praises of collaborative workspace design are many: it helps to foster innovation and creativity, it improves workflow, productivity and communication, and it positively affects employee wellbeing by reducing stress, increasing energy levels and improving coworker relationships.
Throw in the kitchen sink and this concept can truly take down some walls—figuratively and literally. Here are some ideas on how collaborative design can work for you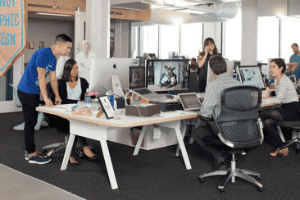 Two heads are better…
Than one at a single desk. At least that's the case with collaborative design. Instead of cubicles, encourage more interaction with larger desks that accommodate two or more employees. If that's not an option think about shorter partitions or modular ones that can be moved and expanded as necessary.
Benching solutions, like Watson's Tonic Benching pictured above at Airbnb's office in San Francisco, are designed to bring team members closer together by breaking down physical barriers and promoting collaboration.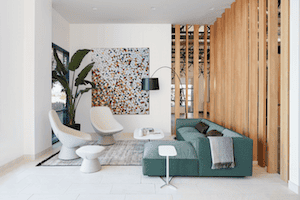 Lounge around
Spontaneous conversations can happen when you least expect it in the office so make sure you're ready when lightning strikes by incorporating informal lounge areas with sofas and tables where possible.
Lounge areas can facilitate the free-flow of ideas by simulating a relaxing, home-like environment in the office. Spaces like these can double as casual collaboration spaces. Studio TK's Pala Collection pictured.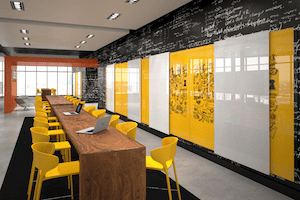 Reach new heights
Get creative with your vertical space by adding whiteboards or even allowing glass walls and/or windows to be written on for brainstorming. And don't forget storage for markers and other supplies nearby to keep the flow going.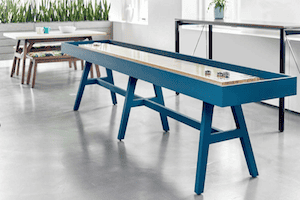 Playtime required
You know what they say about all work and no play. It's a great way to zap the energy and motivation right out of your employees. When designing for collaboration, consider ways you can incorporate playfulness. Ideas include a ping-pong table, foosball, a dart board or video games.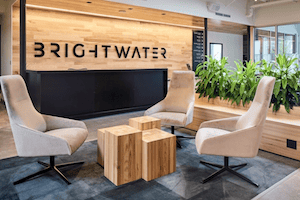 Add your stamp
Personalization of shared spaces is a great way to foster team spirit and highlight the achievements of your employees. Give them the ability and the furniture (or accessory) options to showcase what they're working on, awards they've won or even their creative inspirations.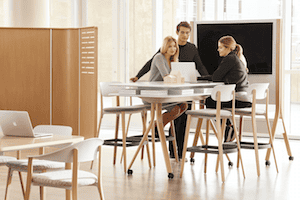 Double-duty
Employees today are not singularly focused, and their furniture shouldn't be either. The versatility of modular furniture by Bespoek can be mixed and moved depending on the need can actually foster greater productivity. And chairs aren't the only thing on wheels now. From storage to tables and desks, make it mobile for even more flexibility.
Mobile tables, chairs and easels, like Teknion's Thesis Collection, are designed to be highly configurable and versatile to meet the evolving demands of the modern office.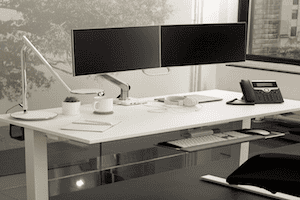 Technology talks
Or rather, it's technology that helps you talk, share, innovate; the keys to collaboration. So, your design must allow for technology anywhere and everywhere with everything from power sources and Wi-Fi to projection screens and sophisticated video conferencing tools.
Privacy, please
There is such a thing as too much togetherness. At times, everyone needs a space to get away for head-down work or a private conversation. Not to mention, one of the biggest complaints of a collaborative workspace is the noise. The solution? Look for low-traffic areas to create quiet zones with comfy chairs as well as acoustical blinds or panels to minimize sound.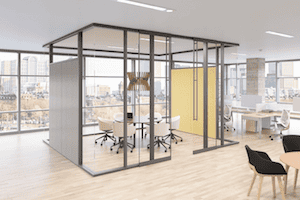 Let there be light
The right lighting in a workspace can improve mood, energy, alertness and productivity. Start by making the most of natural lighting with workstations around windows as much as possible. You can also make use of glass walls or partitions to pull the light through the space. From there, create flexible overhead and task lighting options that fit the work being done in the space.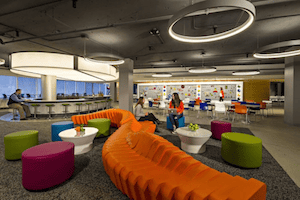 Just add color
Color also has a huge impact on mood and productivity, and your workspace palette should definitely be in tune with the task at hand: blue is calming, yellow inspires happiness, orange inspires creativity and red can increase energy. Keep in mind though that color is not just about the paint, to be most effective in eliciting a certain tone, it should be used in your furniture and accessory choices as well.
Add an unexpected pop of color or go all out with splashes of bright color everywhere to reinvigorate your workforce. Pictured: Datto's colorful office space furnished with out-of-the-box SixInch seating.
Lastly, and we'll call this our bonus tip as we believe it really is the most important: it's okay to buck the trend sometimes. Some find that a little collaborative design goes a long way and others fully embrace the concept. Bottom line: any office design should be about what works for you, your employees and how your company works. And your remodel or new build should start by identifying just that, with the help of an experienced Teammate of course!
---
So let's get started!
Book a tour of our showroom today and enjoy a free design consultation.