It can be hard not to have a one-track mind when it comes to office design. Yes, the look of the space is important – it must be inviting, inspiring and truly capture your company culture. But what about the function? In many ways, creating an intuitive, efficiently functioning office is as beautiful as any coordinating color scheme could ever be. Luckily you don't have to choose between the look and the function with these five innovative office design tricks.
The Power of Innovative Office Design
As far as function goes, technology is at the epicenter of today's office. And if it's not functioning, then most likely neither are you. That's why convenient ways to keep everything powered up should be central to your office design. It may not sound sexy, but don't worry – these design ideas are as sleek as they are smart.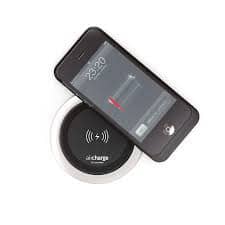 Wireless Charging Pads
Cord-haters unite! With the trend toward open spaces seemingly here to stay, these wireless chargers literally open up your options. Plus, the convenience of being able to power your device when you forget your charger (always) is HUGE!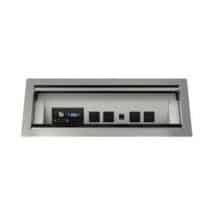 Tabletop Power
With space at a minimum, there's no more sacred area than the work surface. That's what makes this option swoon-worthy. Yes, we said swoon, and you surely will too with the ability to access power, USB and data capabilities when you need it and make them disappear into the furniture when you don't. Gasp, it even comes with multiple finishes. Double-gasp, you can link multiple units together.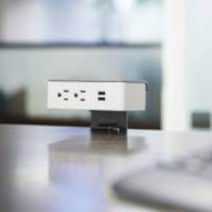 Height Adjustable Power
Whether it's for exercise, ergonomics or if you just like the view at the top; height-adjustable desks are all the rage. So it makes sense that your power source is able to go along for the ride. With either under-mount or clamp-on options, these stations can power all your devices with only one cord that plugs into the wall.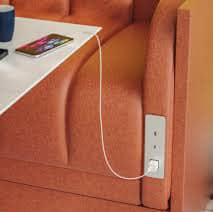 Powered Seating
Informal lounge areas can help spark collaboration, and since you never know when that a-ha moment may strike, make sure that even your seating is ready with power, USB charging and data capabilities built in.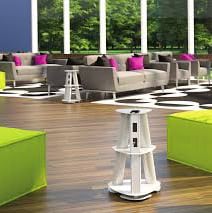 Portable Power Tower
You're mobile and your power should be too. These power towers can go with you wherever you need to be in the office and even offer integrated shelving to hold devices. Cool factor: they come in a variety of colors to easily blend with the décor or to give your space that added pop.
Bonus Trick
We know you have no time to waste on charging. Not only is it irritating, it's also a real productivity killer, so make sure any power option you choose has fast USB charging capabilities even while your phone, tablet or laptop is in use.
Come see these ideas in person!
Book a tour of our showroom for a complimentary design consult.